Critter Bitters
I Critter Bitters sono dei cocktail artigianali a base di grilli tostati. Sono quattro gli aromi della gamma: grilli alla vaniglia, grilli al cacao, grilli alla mandorla tostata e, per i più audaci, grilli puri.
Ogni gusto offre un sapore unico e vario ed è pronto per essere mescolato ai cocktail. Il rapporto della FAO del 2013 dal titolo "Insetti commestibili: prospettive future per la sicurezza alimentare e per il foraggio animale" ha spinto Knops e Plevin a trovare un modo per introdurre gli insetti nella cultura americana. Il rapporto citava la necessità di superare "il fattore disgusto" affinché le società occidentali si decidessero a consumare insetti. Poiché la distillazione, la fermentazione e la mixologia sono fra i settori più creativi e le persone sono in genere più aperte e desiderose di sperimentare quando bevono, risulta abbastanza ovvio accostarsi all'entomofagia attraverso l'alcol. Dalla vodka allo scorpione alla cocciniglia fatta di scarafaggi al mescal con un verme: ecco creato un precedente per unire insetti e alcol. Critter Bitters si richiama a una tradizione antica, ma è anche un salto nel futuro.
Julia Plevin e Lucy Knops - Sono le fondatrici di Critter Bitters e si sono conosciute a una scuola di design di New York e hanno formato un sodalizio basato su un background di design non convenzionale e la passione per i viaggi. Adesso realizzano dei prodotti che incoraggiano il dialogo su importanti argomenti di attualità.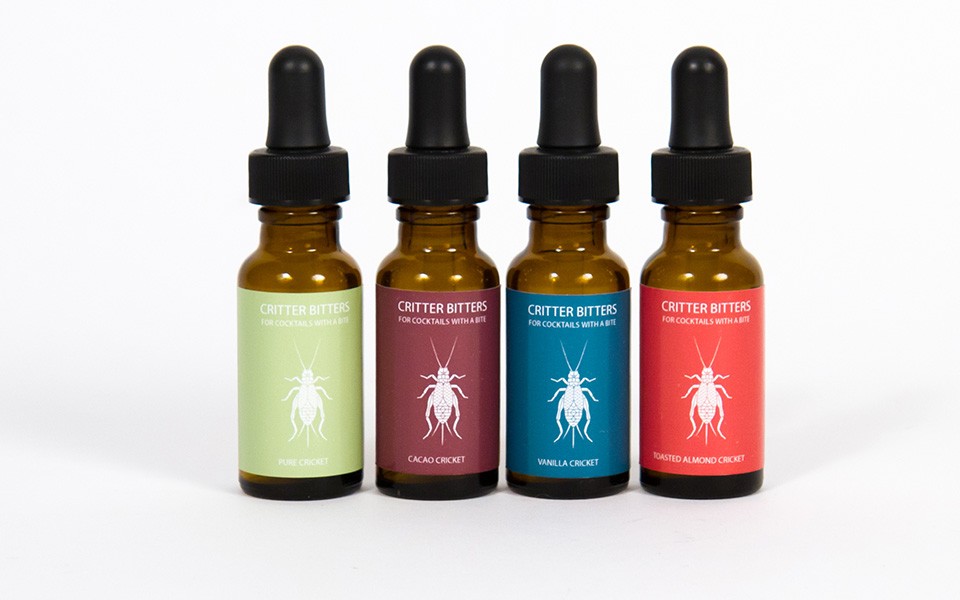 Critter Bitters are handcrafted cocktail bitters made with toasted crickets. There are four flavors in the product line: vanilla cricket, cacao cricket, toasted almond cricket, and - for the most adventurous - pure cricket.
Each flavor yields a unique, multifaceted taste profile and can be readily mixed into cocktails. The UN FAO 2013 Report titled, "Edible Insects: Future Prospects for Food and Feed Security," inspired Knops and Plevin to find a way to introduce insects to American culture. The report cited a need to overcome "the disgust factor" in order for western society to willingly consume insects. Given that distillation, fermentation, and mixology are among the most creative industries and people are naturally more open-minded and experimental when they are drinking, it makes sense to normalize entomophagy through alcohol. From scorpion vodka to cochineal made from beetles to mezcal with a worm, there is a precedent for insects in alcohol. Critter Bitters are a nod to an age-old tradition and a leap into the future.
Julia Plevin and Lucy Knops - They are the founders of Critter Bitters and they met in design school in New York City and bonded over their shared non-traditional design background and wanderlust. Now they make products that encourage conversation around the important issues of today.